In just a few weeks, Tecnon OrbiChem and partner I•C•I•S co-host their 26th World Chlor-Alkali Conference in Singapore. Our founder Charles Fryer remembers the event's inception, and explains how this unique partnership began.
When we began running our own chlor-alkali conferences in London, Tecnon OrbiChem still went by its original name Tecnon UK. Our first was in 1980, or thereabouts, recalls Fryer – who will open the conference on 15 June.
'These were the world's first market-oriented chlor-alkali conferences... And back then they happened in London – every three years not annually – so we'd held a handful by the early 1990s when European Chemical News' (ECN) award-winning editor Mary Heathcote and Tecnon OrbiChem got talking.
Arguably the leading weekly business publication for the global chemical industry at the time, ECN – then part of the publishing giant Reed International – branched out into Asia. Keen to corner that continent's chemicals information markets too, Reed sent its star editor Heathcote to Singapore to lay the foundations.
---

'...Jo

int ventures are intrinsically unstable, and yet ours

has endured for more than a quarter of century thanks to good will on both sides...

'
Tecnon OrbiChem founder Charles Fryer
---
With her lead, the Asian Chemical News (ACN) emerged, swiftly followed by Heathcote's suggestion that Tecnon OrbiChem bring the event to Singapore, Fryer adds. The conference, therefore, began as a joint venture between Tecnon OrbiChem – with Fryer at its helm – and ACN under Heathcote.
Enter our new partner

left stage
Reed acquired I•C•I•S in 1994, in fact just around the time that the parent company began to questions its Asian venture. But, still enthused by its Tecnon OrbiChem partnership, Reed suggested that I•C•I•S fill ACN's shoes. 'That explains how we came to do the Asian Chlor-Alkali Conference in Singapore,' Fryer explains.
'Joint ventures are intrinsically unstable,' says Charles 'And yet the Tecnon OrbiChem/ I•C•I•S partnership has endured for more than a quarter of century thanks to good will on both sides.
'With this history behind us, and with our delegates coming for all quarters of the world, it was time to emphasise that we were offering a unique global forum for the vital chlor-alkali chemicals industry subsector.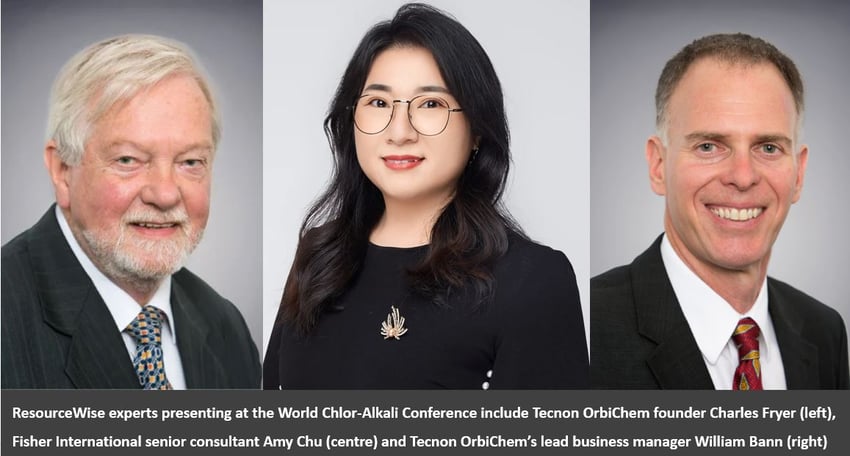 'So, we renamed it the World Chlor-Alkali Conference… At that point, what began as Tecnon OrbiChem's modest London event and matured into the Asia Chlor-Alkali Conference evolved even further to what it is today.
'This year, as we come together again following the four-year pandemic-related hiatus, we intend to fortify our world class standing and – as its title says – help set our industry's participants on paths to an optimistic future in the face of challenges.
'We look forward to seeing you at the InterContinental, Singapore on the 15 & 16 of June 2023,' Fryer adds.
Unravel complex chemicals supply chain dynamics with interactive datasets & engaging visualisation


Besides Fryer, Bann and Chu, Tecnon OrbiChem's global sales manager Matteo Baldi and marketing specialist Jane Denny are attending the event.
Baldi is offering 30-minute time slots to all delegates. If you want to schedule a chat with him to learn about

our services, or watch a demo of our chemicals sector data analytics platform OrbiChem360, simply schedule a session

using the button below.



Denny, meanwhile, will be on hand to assist and answer any questions you might have, conference-related or not. She will be at the registration stand as the conference begins and available at the Tecnon OrbiChem stand in the Grand Ballroom Foyer during other times.
---
CONFERENCE AGENDA
Day One - 15 June
08.00
Registration & Refreshments
09.10
Opening remarks Charles Fryer
09.20
An in-depth discussion on the global economy

– Oxford Economics

l

ead economist Louise Loo
Global economy roundup: Looking at the 12-month trend

Di

sruptors: Continued stress on recession, geopolitical concerns, & regional differences

Examining the challenges connecting the world today

Looking at short- & long-term changes: What are the key trends to watch out for?
10.00 New normal: What shapes the global chlor-alkali market today? – Charles Fryer
How has the market changed in the past 12 months?

A balancing act: Insight into caustic soda & chlorine globally

What lies ahead: Looking at future trends considering market disruptors & growth prospects




10.40
Networking refreshment break
11.15
US Chlor-alkali market:
Changes & challenges

–

Tecnon OrbiChem business manager William Bann
Current state of play between chlorine & caustic soda demand

Insight into capacity changes in the US: What are the drivers?

Protecting competitive position amid economic turbulence & trade flow changes
11.45
Outlook for European ChlorVinyls

–

Inovyn business manager Alistair Croall
Future supply & demand – a balanced market

Sustainability & the regulatory environment
12.15 The regulatory environment & the chlor-alkali industry –
Chlorine Institute VP health, environment, safety & security Robyn Brooks
Truck transportation regulations

Government focus on energy intensity & greenhouse gas reduction

By-product hydrogen – evolving decisions of national governments on how it should 'count' in sustainability efforts

Pending US asbestos regulation & its effect on chlorine production operation'




12.45 Lunch & networking
14.00 Developments of the chlor-alkali markets in Southeast Asia –
Chlorine & Alkali, Southeast Asia Division AGC General Manager Hiroyuki Kaneko
Supply outlook & new capacities in the region

Spotlight on alumina: Drivers of demand in the region

Insight on nickel demand & electric vehicle development in China

Growth prospects in Southeast Asia: What should we expect?
14.30
Networking refreshment break
14.30
A closer look at the Asian PVC markets: Global influence & regional changes

–
Jonathan Chou,
I•C•I•
S
markets editor &

I•C•I•

S

principal consultant Regan Hartnell
Key change influencers of PVC supply & demand

International & regional PVC trade flows & their influence in defining the Asian PVC market

Exploring how other factors, such as volatile power costs or policy matters affect Asia's PVC post-pandemic market

Insight into PVC margins & price drivers

PVC compared with other polymers

Long-term outlook: supply & demand



15.20
Networking refreshment break
15.50 Developing dynamics in China: How would they change the global trade? –
China National Chemical Information Center ceo Peter Huang
Steady supply, increasing demand: Looking at the caustic soda dynamics

Chlorine market in focus: Demand scenarios, challenges, & the impact of zero covid policy

New source of demand: Spotlight on lithium battery market
16.20 Rapid growth of the Indian chlor-alkali markets –
Alkali Manufacturers Association of India president Kapil Malhotra
Would India completely move from net importer to exporter in the chlor-alkali markets?

Sectors driving consumption in India: How has it changed in recent years & what are the projections?

Outlook on short- & long-term growth prospects
16.50 Examining developments in the alumina market – CM Group director Alan Clark
What drives new investments in the alumina market?

The changing grades of bauxite & its impact on caustic soda requirements

Growth prospects & future trends
17.20 Chair's closing remarks followed by drinks reception
Day TWO - 16 June
09.00 Chair's reconvening remarks

09.10 Insight into the shipping industry & its effects on the caustic soda market –
Kpler senior analyst Senthuran Raviraj
Key caustic soda seaborne flows & how they are transported

Tanker fundamentals & its effects on freight rates

Future legislation & its impacts on the markets
09.40 Pulp & Paper markets: Growth, challenges & future trends –
Fisher International senior consultant Amy Chu
The drive against climate change & how it is changing the demand for pulp & paper products

Innovation in pulp & paper production

Insight into growth drivers globally



10.10 Breaking the chlor-alkali supply chain paradigm through small scale production –
Chlorum Solutions president & co-founder Daniel Croce
Benefits of small-scale production to customers, environment, the community

Who is this solution ideal for?: Water treatment & isolated industrial sites

Understanding site layout & assessing footprint needed

Case study: Project success stories




10.40 Networking refreshment break
11.10 Keeping the world moving amid hurdles in logistics & supply chains –
Royal Haskoning DHV associate director Melissa Charn
Geopolitical tension is changing global trade flows, how is the logistics sector coping up?

Insight into long distance shipping of liquid chemicals & solid caustic soda in containers

Balancing challenges & opportunities: How the logistics sector is keeping up with the scramble to secure supply
12.00 Sustainability in chlor-alkali –
Ineos Electrochemical Solutions (IES) business development manager Bruce Li
As the world ramps up its response to the climate emergency, we look at what part the chlor-alkali industry has to play. An exploration encompassing both in its contribution to meeting sustainable development goals, & its impact on carbon emissions.
What action is the chlor-alkali industry taking to address this issue? What are the key areas for improvement/change? Li's presentation seeks to highlight the challenge, and open the question of how IES can support its customers in achieving their sustainability goals.
12.20 Technology-focus Q&A:

Nuberg Engineering general manager, marketing Arun Tyagi
Ineos Electrochemical Solutions business development manager Bruce Li
12.30 - 14.00 Chair's closing remarks followed by lunch
You can still register to attend the 26th World Chlor-Alkali Conference here.