Reduce Your Carbon Footprint
Prima CarbonZero is an intuitive platform that delivers comprehensive data and expertise. Designed for business leaders and analysts at organizations that produce, trade, and invest in low-carbon fuels and feedstocks.
Mapping a real-life strategy toward zero carbon emissions is a critical aspect of our collective investment in a sustainable future. Your organization needs to actively invest in low carbon efforts. Prima CarbonZero can give you a competitive advantage and is your solution for your best possible foot forward.
View and interact with low-carbon fuel data anywhere.
Stay ahead of the curve with anytime, anywhere access to low-carbon fuel market data in one easy-to-use online platform.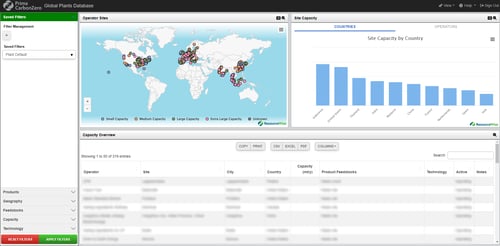 Customize information based on your bioenergy data needs.
Get the information you need fast with the ability to save filters on tables and charts. Export data in a variety of presentation- and report-ready formats or export to Excel for additional analysis.
You can even work with our team of experts to custom-fit your data to get the most essential and relevant information for your organization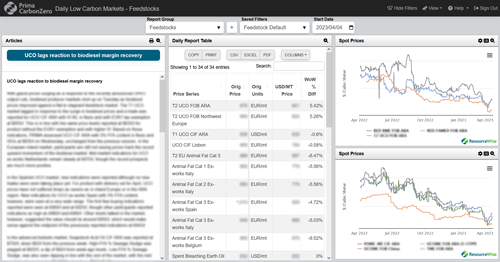 Daily price reporting on biofuels, renewable feedstocks, and climate tickets includes a wide range of current and historical biofuel data from advanced biodiesel to waste and crop vegetable oil.
Expert analysis that provides detailed insight on market drivers and their impact on pricing trends.
Spot and future prices provide forecasts for improved short- and long-term strategizing.
Renewable Diesel, Ethanol, and Vegetable Oils
Weekly analytics delivers pricing data with week-over-week percentage change on European, North American, and South American Green Diesel as well as international ethanol and vegetable oils.
Inform your trade and investment decisions with spot and futures prices and spreads on everything from crop/edible feedstocks to ethanol.
Market Analytics provides a wealth of knowledge, information, and intelligence on all vital areas in the low-carbon market.
North American Certificates

: Market data and analysis on renewable identification number (RIN) credits

Global Biofuel Mandate

s: Interactive maps and tables displaying European and North American biofuel mandates with summaries of mandate characteristics

Global Plants Database

: Index of worldwide biofuel and HVO plants that can be filtered by product, geography, feedstocks, capacity, and technology used in production

Global Trade Fundamentals

:

The global trade wheel allows you to track specific export data at a country-to-country level for laser-targeted data points across the global marketplace
The Prima Carbon Mitigator provides critical data to support thetransition to zero carbon emissions. Insights and reports from the Prima team give you the expertise you need to make decisions with confidence.