Let's take a very simplified and quick look around the Pulp World. Cellulosic pulps are comprised of basically the same materials, cellulose (polysaccharides), hemicellulose, lignin, and extractives. The pulp characteristics and differences are:
Fiber Wall Thickness
Fiber Length
Fiber Diameter
Chemical Composition
And the separation process of the fibers from the chip matrix. This includes Kraft Cooking, Sulfite, NSSC, BCTMP, and other High –Yield processes. Also to be included is the Bleaching process for the bleached pulps.
These fiber properties can be a guideline as they explain the interaction with other fiber properties important to the papermaker and to the ultimate product.
Paper fiber properties that are critical include:
Drainage- related to WRV, porosity, strength development, and population
Wet Sheet Strength- coarseness, fiber-fiber bonding
Formation- coarseness, porosity, fiber population
Water Retention Value- fiber dimensions, fiber wall thickness, and coarseness
Porosity- coarseness, fiber population, fiber-fiber bonding
Bulk- fiber diameter, coarseness, fiber wall thickness
Fiber Stiffness- fiber length, fiber wall thickness
Opacity Ability- fiber length, fiber population, coarseness, fiber-fiber bonding
Tensile- fiber length, fiber-fiber bonding, fiber population
Tear – fiber length, fiber-fiber bonding
The correct blend of these properties will lead to optimized machine runnability, reduction in off-spec paper produced, optimized steam consumption, optimized chemical consumption, optimized fiber recipe cost, and potentially lead to superior end product quality.
Mixed Southern Hardwoods usually have gums and oaks in them, sometimes as a predominant species. Oaks can have an extremely large vessel element which needs to be managed to minimize surface picks on all printing grades.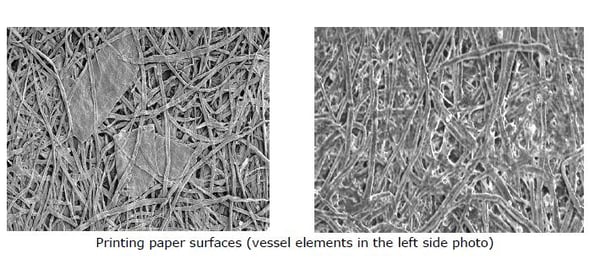 Photo from Eucalyptus Online Book and Newsletter, ABTCP
The fiber to purchase depends upon the finished product. To optimize the requirements of the product performance and the paper machine, the following properties need to be considered:
Pulp Fibers Properties,
Paper Making Properties,
Product Specs / Product Performance in the Marketplace
In general, some of the more important pulp fiber properties are:
Coarseness- this is the inverse of density. It is highly indicative of fiber flexibility
Fiber length
Fiber wall thickness
Fiber population – a measure of the number of fibers per unit weight of pulp
And of course, inherent fiber strength measured in different ways

Effect of Fiber Length Increase/Decrease on Paper Properties (www.paperonweb.com)
A high coarseness pulp is related to a fiber with thicker fiber walls. These fibers will tend to lead to a more open paper structure that is more porous, bulkier, and more absorbent. These fibers are difficult to collapse on their own.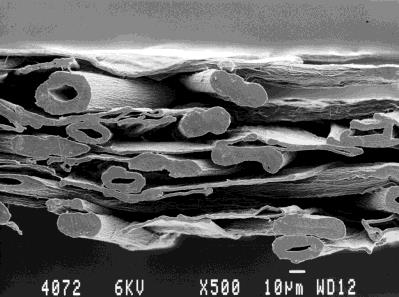 An example of a High Coarseness Pulp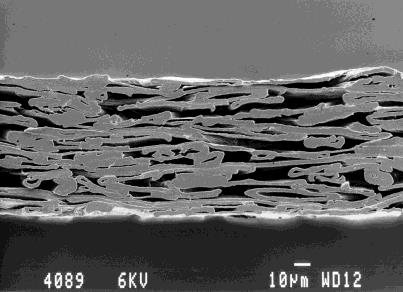 An example of a Low Coarseness Pulp
Photos courtesy of Canfor Pulp
From the rigidity or coarseness of the fiber, it can be seen that the Bulk properties are also impacted.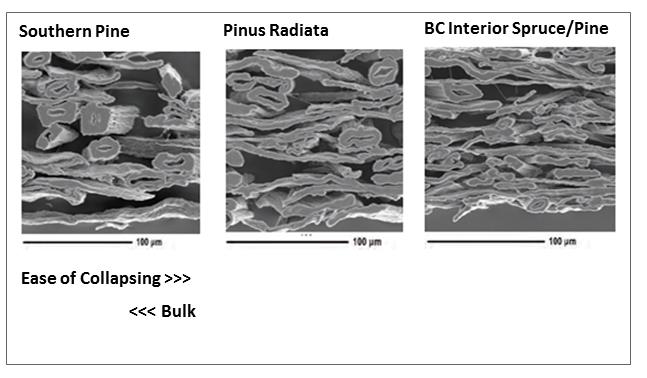 Photos courtesy of Canfor Pulp
Again, from the rigidity of the fiber, one can also see the impact on Wet Fiber Flexibility.

Photos from Eucalyptus Online Book and Newsletter, ABTCP
These micrographs show the importance of fiber coarseness. A high coarseness fiber will have improved bulk, porosity, and absorbency, drainage, low fiber bonding strength and potentially increased picking and linting. A low coarseness fiber will have improved fiber-bonding, increased wet web strength, improved opacity, and improved formation, better coating holdout, higher overall strength, and increased Water Retention Value.
In general, fibers with a high fiber population tends to have short fiber length, better fiber-fiber bonding and can lead to negative results for bulk, porosity, and softness. Eucalyptus fibers are somewhat different in that they have high populations but also low tendencies to collapse. This means that they maintain bulk and absorbency.
The Canfor PRP however is different. What makes the Canfor PRP unique is that it has a high fiber population that readily collapses AND long fiber length AND a narrow fiber wall thickness distribution. It is these 3 characteristics of the PRP that allows high strength development at low levels of refining.
Finished Products
The properties of the finished products all need to be balanced to meet the requirements of the paper machine. However, some properties do, tend to be more important than others.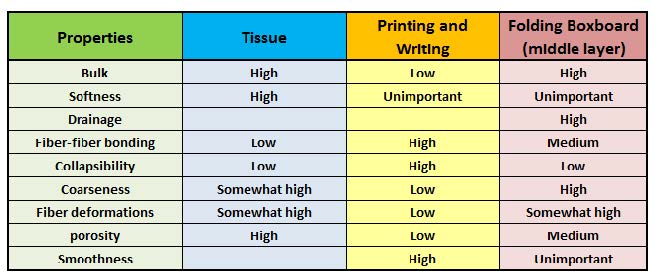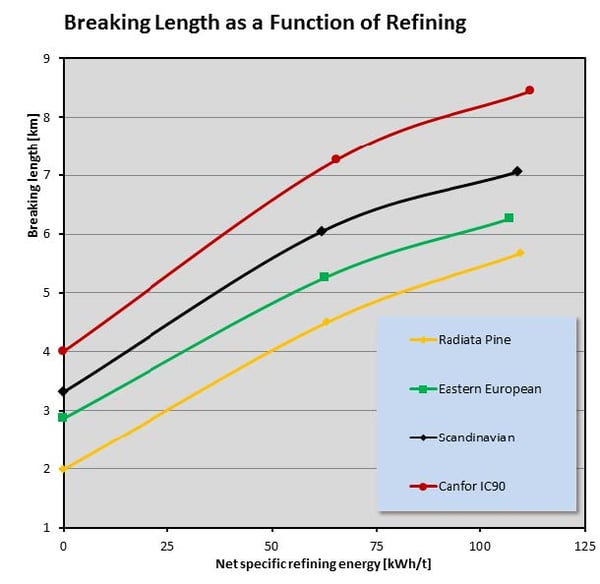 Courtesy of Canfor Pulp
As can be seen, the Canfor pulp is developed much quicker with less energy. This also means that the other fiber characteristics such as bulk are more maintained than with a highly refined pulp. These pulps are not used as a single component on the paper machine. They are blended into an optimal recipe of furnish that allows the papermaker to meet the manufacturing objectives but still satisfy the product performance requirements in the marketplace. In some cases, the product performance can exceed the requirements of the marketplace with an optimal pulp blend. This pulp definitely has a place in furnish recipes across a wide array of paper products.
To keep the fiber optimization discussion alive, I have generated a brief table showing the best applications for various market pulps. The pulps will NEED to be blended and at times layered to optimize use.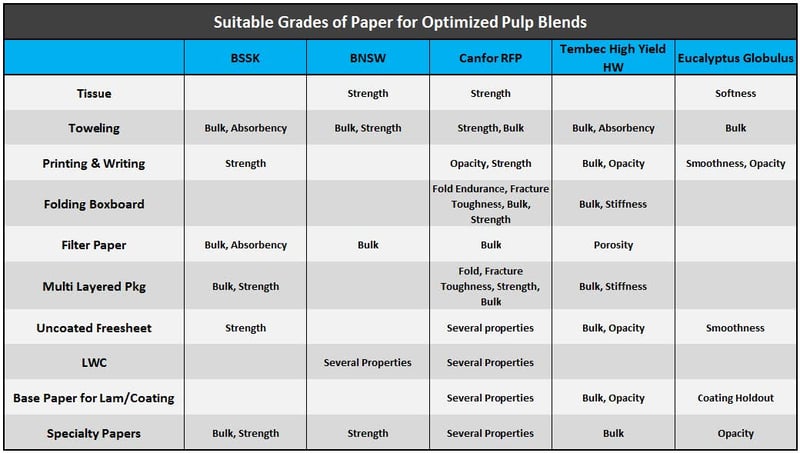 Tembec, Canfor, and other innovators have shown that the effective use of market pulps can significantly improve the cost-competitiveness of a paper mill's finished product. The key is selecting the optimum fiber or fiber blend that takes into account the papermaker's needs as well as the finished product requirements.
References
1) A Comparison of Pulping and Bleaching of Kraft Softwood and Eucalyptus Pulps, Lewis D. Shackford, TAPPI DIRECTOR, GL&V USA, Inc., 36th International Pulp and Paper Congress and Exhibition, October 13-16, 2003, São Paulo, Brazil
2) Differentiation in Market Pulp Products, www.celso-foelkel.com.br
3) Eucalyptus Online Book and Newsletter, ABTCP, "The Eucalyptus Fibers and the Kraft Pulp Quality Requirements for Paper Manufacturing", Feb/March 2007, www.celso-foelkel.com.br
4) www.paperonweb.com
5) Conversations with Tom McDonald, Fiber Director, Tembec
6) Conversations with Bill Adams, Director, Sustainability and Technology, Canfor Pulp