The chlor-alkali sector is uniquely positioned to act as a litmus test for the global economy, making its ripples around trade indicative of what is to come elsewhere in the chemicals sector. That's because its outputs are used in a variety of industries globally. From pulp & paper and alumina production to personal care, construction through PVC and business sectors beyond.
With little but negative numbers and disastrous downturns highlighted by bloggers and news outlets since Russia's invasion of Ukraine just over 15 months ago, any graphical trajectory upward is cause for celebration, right? Perhaps more a cause célèbre...
Still, our data analytics platform OrbiChem360 – which leverages tens of thousands of data points per week from our partner GlobalTradeTracker to illustrate worldwide trade flows – shows that Europe's caustic soda exports are actually increasing in 2023.
The juxtaposition of Q4 2022 rock bottoms – when the subsector was reeling from rocketing energy costs – help to give the recent growth spurt a positive spin… But looking further back – as we do in our free-to-download eBook – only during April 2019 were Europe's liquid caustic soda exports higher than those of March 2023.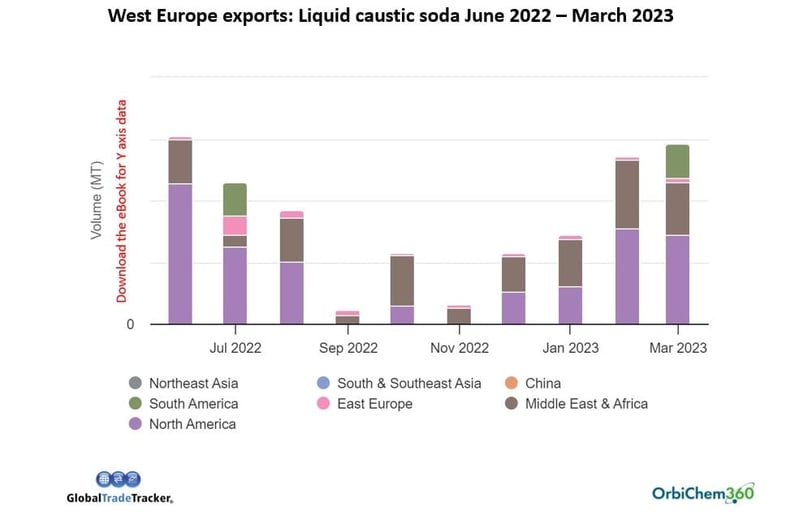 Source: Tecnon OrbiChem
Do the steadily rising bars on the charts mean we can start thinking in terms of those elusive green shoots of recovery?
Tecnon OrbiChem's chlor-alkali-focused consultants Jaroslaw Cienkosz - who is based in East Europe - and Lulu Zhao - who is based in China - have monitored the market and canvassed its participants to bring you the eBook Global markets for caustic soda: Mid-year review 2023.
---
'...Low-priced European caustic soda exports is good news for overseas buyers, not so much for domestic producers.
European plants are at least still in business & operating. Unplanned stoppages tend to be very expensive last resorts...'
~ Tecnon OrbiChem
---
Low-priced European caustic soda exports make good news for buyers, who will have sourced what they need at lower prices. Domestic producers will not be so happy to see that happening as these are firesales, at rock-bottom prices, which domestic customers will be tempted to exploit in the next round of negotiations.
It will, however, at least have kept European plants in business and operating. Unplanned stoppages tend to be very expensive last resorts.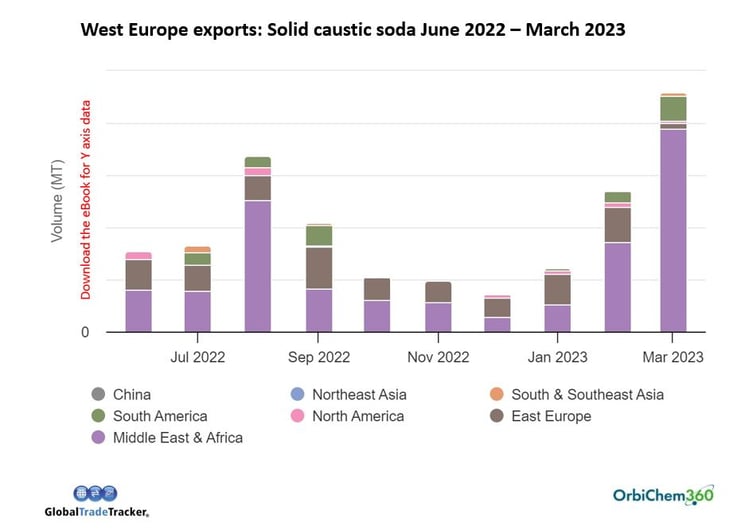 Source: Tecnon OrbiChem
---
'...China's exports for liquid and solid caustic soda have - more or less in tandem with Europe's rise in exports - declined...'
~ Tecnon OrbiChem
---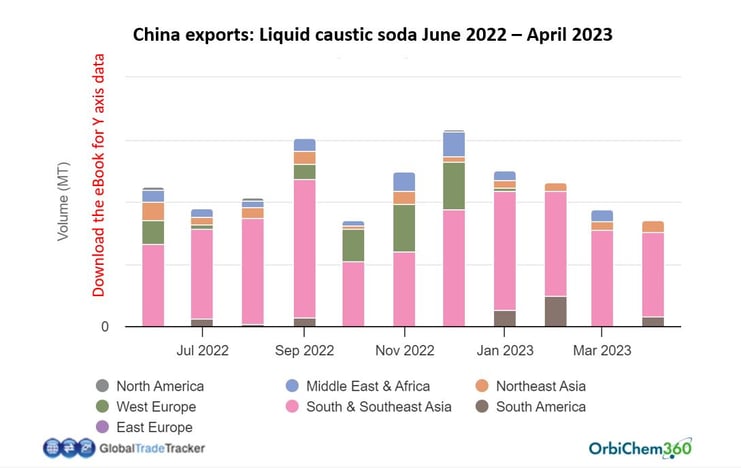 Source

:

Tecnon OrbiChem
Liquid Caustic Soda Price Flux
The German contract price DPP is just one of the 25 distinct liquid caustic soda prices our chemicals intelligence platform OrbiChem360 reports. It is not the only price to exhibit intense volatility in recent months. Download our eBook to access the price per metric ton in US dollars (excluding VAT).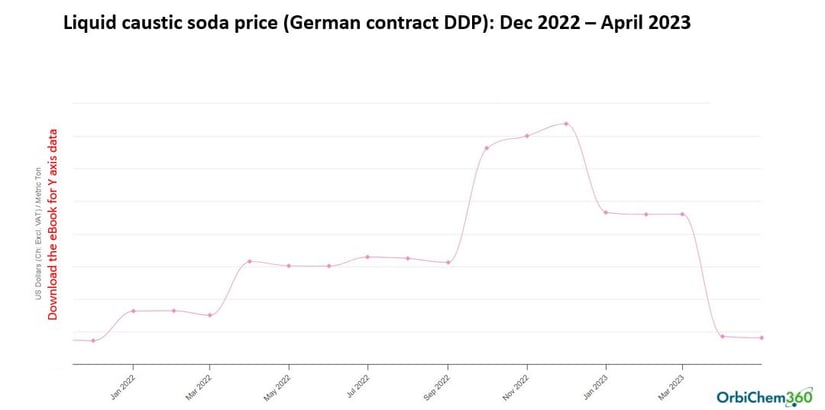 Source: Tecnon OrbiChem
Boost to Chlorine and Caustic Soda in Europe
In the midst of this, Europe's chlorine dynamics could not fail to be significantly altered by the successful start-up of Covestro's new world-scale plant for chlorine in Tarragona, Spain this February. An innovation in chlor-alkali production, it is completely based on oxygen-depolarized cathode (ODC) technology, according to a company press release. Vital even in a waning global energy crisis, the ODC process cuts the required electricity for producing chlorine and caustic soda by up to a quarter compared to the conventional method says Covestro.
The plant - which has been reported as coming out of a €200 million investment - secures Covestro's independent supply of caustic soda and chlorine. The move will greatly strengthen the German company's capacity to deliver the isocyanate MDI for rigid polyurethane applications such as insulation in construction and refrigeration.
Download the eBook, Global Markets for Caustic Soda: Mid-year Review 2023