Forest Products
The only commodity pricing solution in the industry to provide transaction-level data.
Subscribers get over 23 years of detailed transaction-level data from over $8.4B in sales.
The most comprehensive database in the market, with the only set of data collected at the transaction level.
Developed in 2000, transactions are validated and standardized before being entered into our database. This process provides a comprehensive view of market dynamics with information supplied by forest products companies, wood dealers, loggers, consultants, and landowners.
Our database provides comprehensive sales details and product data for actual timber sales throughout the US South and Brazil:
Compare sales, pinpointing regional timber prices with a high degree of accuracy.

Negotiate timber sales agreements with qualitative details about the value of timber to maximize your profits.

Save time on determining the current value of timber.

Address your business challenges through customized analysis.
Stumpage 360 Database
On-demand access to southern timber prices.
Whether you are buying or selling timber, planning a harvest, brokering a timber sale or tracking the value of timber over time, Forest2Market's Stumpage 360 database provides comprehensive sales details and product data for actual timber sales throughout the US South.
Product dashboards provide interactive charts and tables that help users visualize geographies and the data that correspond to them.
Dashboards can be viewed on a monthly, quarterly, or annual basis, and include:
Historical data on product groups

Individual products that can be sorted by price-per-ton or DBH.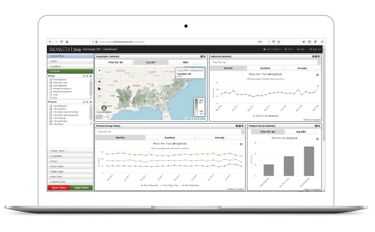 Delivered Wood Price Benchmark Dashboards
Our benchmarks are the standard against which suppliers and consumers of wood raw materials around the world measure performance.
We provide buyers and sellers of wood raw materials with the market intelligence they need to increase performance and profit margins.
With market intelligence around lumber prices for southern yellow pine and other North American species, mills can compare their lumber prices and overall mill costs and revenues to the market and get strategic support services for M&A opportunities.
Our sawmill benchmark was produced in partnership with The Beck Group to provide management with a clear understanding of mill viability and help plan and implement improvements to ensure their future in this increasingly competitive market.
Our data is the sole source of transaction-based data available in the market. Delivered Price Benchmarks provide the ability to:
Negotiate wood raw material and residual

prices.

Secure and stabilize supply and off-take

agreements.

Compare pricing and performance to the market at large.

Track price changes and identify trends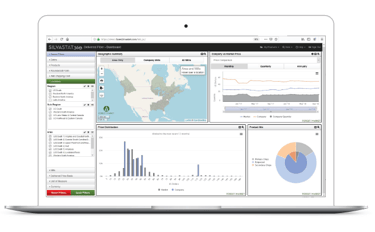 Weekly Lumber Price Report
Weekly transaction-based southern yellow pine lumber prices with data based on real sales purchases from orders and invoices collected from our subscribers.
We aggregate our collected data and report it back to our subscribers. These reports contain hundreds of accurate market performance indicators in every issue.
Reports display volume-weighted average prices by grade and length (including MSR and mixed loads) for dimensioned lumber, decking, timbers, price and volume changes from the previous week, and market price variation during the week.
Weekly Lumber Price Reports are the most accurate and precise southern yellow pine lumber pricing available in the market. Our market metric dashboards allow subscribers to:
Take control of lumber sales and marketing.
Streamline the information-gathering stage in decision-making with insights into demand, price, and volume movement.
Make better decisions with a higher degree of confidence.
Base purchase and sales negotiations on value, not price.
Improve production and sales decisions.
Increase profits with better production and sales decisions.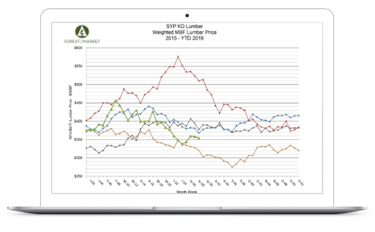 Lumber Price Benchmark
The standard against which buyers and sellers of southern yellow pine lumber measure their performance.
The lumber benchmark provides subscribers with a complete and accurate picture of their individual operations and how they compare to the broader market.
Subscribers are able to fine-tune their purchase and sales strategies and make decisions confidently.
Subscribers can use these benchmarks to:
Compare data with aggregated industry data from other organizations.

Set meaningful goals, gain insight into trends occurring across the

industry.

Discover performance compared to industry peers.




Measure the effects of business decisions over time.

Evaluate product mix.

Identify revenue enhancing/cost saving opportunities.

Improve staff and facility effectiveness.

Accurately assess the value of mill inventory.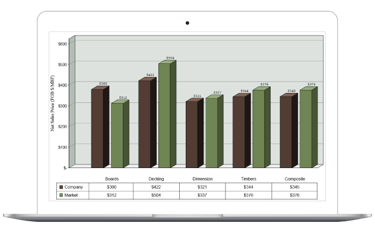 WoodMarket Prices
A convenient, one-stop repository of global timber prices.
We provide datasets and analytical tools imperative for success in the global forest supply chain.
Our online platform includes price and trade data and trending market commentary on critical industry developments. This crucial data can be visualized and analyzed based on your exact needs.
Subscribers get:
Price tracking with worldwide pricing on sawlogs and pulpwood.
Global trade monitoring with trade information for lumber, logs, wood chips and pellets.
Worldwide competitive evaluation of sawmills and pulp mills.
Pricing trend data with quarterly wood raw-material price trends for the past 30 years.
Industry development updates for North America, Europe, Latin America, Oceania, and Asia.
Currency customization for wood chip pulplog prices in US dollars and local currencies.
Current and historical pricing data with comparison by country. View and download historical trend/time series data for sawlogs, pulplogs, wood chips, pellets, market pulp, and lumber.