5 min read
Footwear Feedstocks Price Forecast: A Chemicals Cost Comparison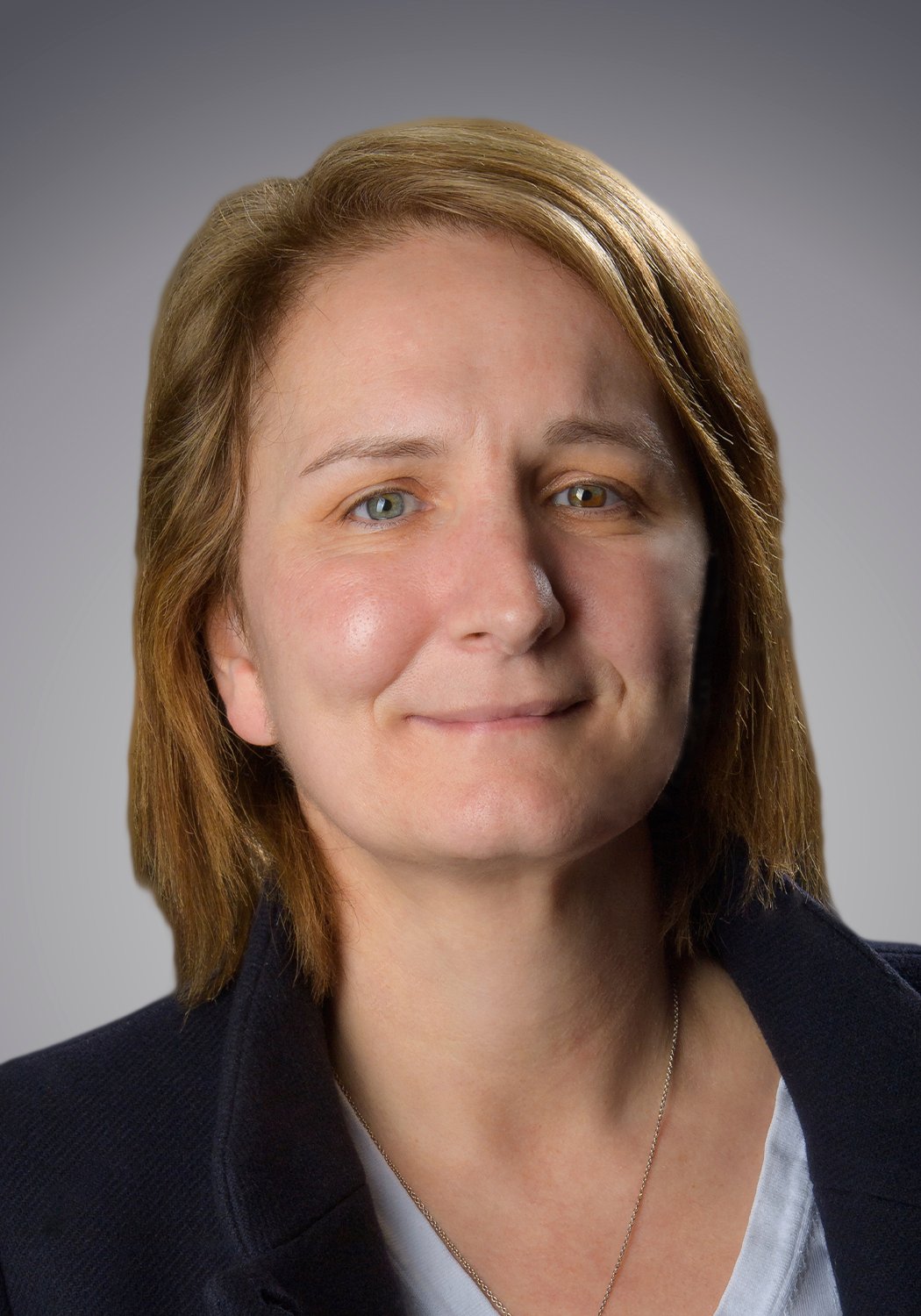 Jane Denny : Oct 5, 2023 1:08:25 PM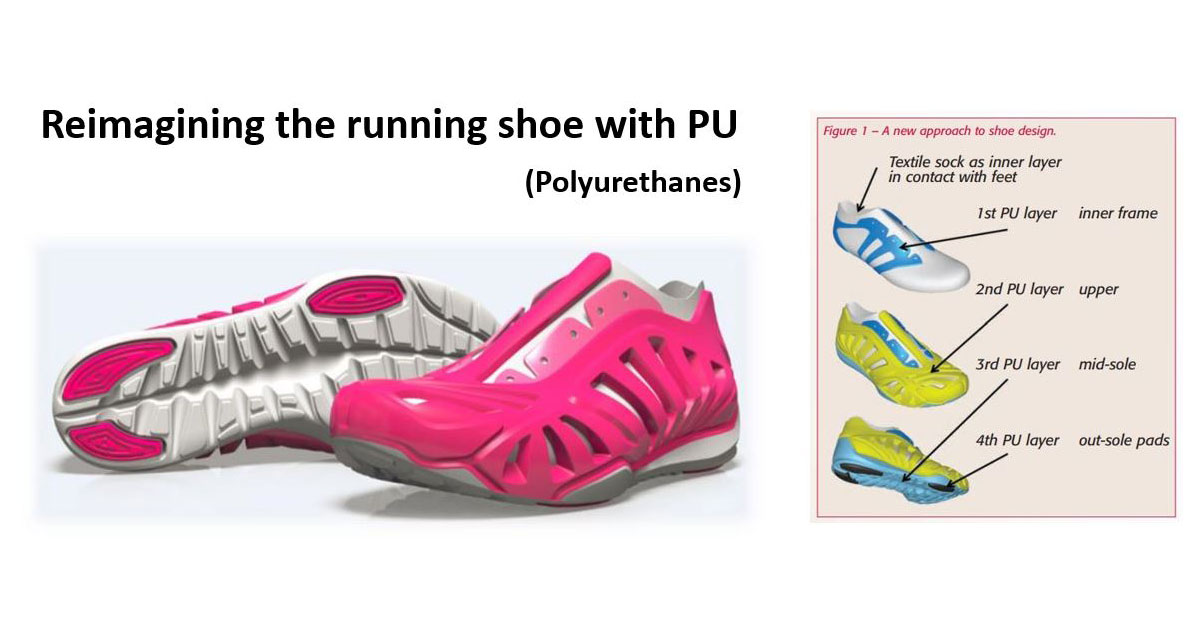 The footwear sector is huge – with as many as 24 billion pairs produced annually – but it is also quickly evolving. Whether we're talking raw materials, geographical focal points of production, and/or manufacturing techniques, the sector hasn't stood still over the centuries and decades...
The chemicals and materials used to make footwear underpin key commodities markets. But those most widely used in shoe manufacturing are also key feedstocks for other industry sectors.
Using Tecnon OrbiChem's proprietary ChemForesight price forecasting toolkit, we have explored the feedstocks to map out price trajectories to 2025.
Feedstocks for the EVA foam in midsoles – ethylene and vinyl acetate monomer (VAM) – are investigated. Also probed are the raw materials – propylene oxide (PO) and the isocyanate methylene diphenyl diisocyanate (MDI) – for producing polyurethanes.

This blog post – and its free-to-download eBook – explores key footwear value chain products from their respective price point perspectives between 2018 and 2025. A chart showing the price fluctuations for PU sole resin in China is also included.
---
"...Asia's ethylene price is generally volatile – as shown in our free-to-download eBook - and swings often, occasionally even under the US$500/ton mark..."
---
Footwear, an Evolving Industry
Traditionally, shoes were manufactured using materials including leather, rubber, and wood. Today, a range of plastics and other petrochemical-derived materials feature in a continually evolving manufacturing sector.
Sustainability and technological advancement are key drivers behind the sector's changeability. But so too are apparel trends and direct-to-consumer models – defined in a Harvard Business Review article.
You Say EVA, I Say PEVA...
Ethylene-vinyl acetate (EVA) is widely considered the most oft-used midsole material, with its rubber-like flexibility and softness being key. In fact, the term EVA is a shortened version of PEVA, or poly(ethylene-vinyl acetate), from which Croc shoes are made.
EVA and PEVA are, therefore, the same material – co-polymerized ethylene and VAM. The absence of chlorine has made it a popular alternative to plasticized PVC in household product sectors in recent years.
...And What About PEBA?
For sports shoes, the relatively rigid plastic material PEBA provides enhanced performance when used for outsoles. Neither EVA nor PU-based, PEBA is a thermoplastic elastomer (TPE) – specifically a polyether amide block polymer combining Polyamide 12 with PTMEG polyether.

In sports shoe insoles, PEBA's ability to return kinetic energy to wearers courted intense scrutiny ahead of the 2020 Tokyo Olympics. When runner Eliud Kipchoge broke the two-hour marathon record wearing a pair of Nike's PEBA mid-soled Vaporfly running shoes, World Athletics officials suspected unfair advantage and potential 'technology doping'. In the end, however, a slightly tweaked version of the shoe – with a sole thickness under 40mm and limited carbon input – was sanctioned for use at the event, though the model Kipchoge wore was banned.
Squeezed Midsole Material Markets
The starting point for EVA is the olefin ethylene. A common feedstock for polymers and industrial chemicals, it is largely obtained via steam cracking. Ethylene – as with other platform petrochemicals such as propylene – is subject to availability and pricing pressures.
EVA is produced by reacting ethylene with vinyl acetate monomer (VAM) – an intermediate that also relies on an ethylene (and acetic acid) feedstock. The cost of these materials, therefore, remains key to consideration in footwear supply chains.
The price of a ton of ethylene in the Asia region is generally volatile – as shown in our free-to-download ChemForesight eBook. Its price swings often – and occasionally even under the US$500/ton mark.
In fact, since January 2018 this key feedstock has demonstrated intensely volatile pricing structures, even in non-Covid periods.
Price point levers include strong demand, cost pressure from feedstocks or production costs, and/or supply tightness. Reductions in output – which also tend to push prices up - are triggered by reduced import availability, plant closures or turnarounds, and even inventory reduction strategies.
Comfort, Durability, and Energy Return
The internet is awash with opinions and reviews around comfort and durability – especially for sports and running shoes. The relative kinetic energy return of midsole materials and technology is not only hotly debated by consumers, but it has been scientifically studied too.
The synthetic plastic polyurethane has become an increasingly popular footwear raw feedstock in recent years. It is increasingly providing the sought-after cushioning system of midsole solutions for both sports and standard footwear options. A versatile material, PU demonstrates high strength at low density. And PU is slip and abrasion resistant.
Examples include BASF's high-performance PU material Elastopan, which features in Brook's Levitate running shoe range. Covestro and Anta Sports collaborated on a new carbon fiber composite-cored basketball shoe, the KT6. It features a thermoplastic polyurethane (TPU) midsole and upper (the section that wraps the foot).
In the end, however, many footwear producers will be driven by the availability and price of the olefins and intermediates needed to make their end products.
Vinyl Acetate Monomer and Wider Markets
VAM has tended towards less intense volatility than ethylene this past half-decade – as shown in the eBook graph. However, with the VAM derivative EVOH's (ethylene vinyl alcohol) growing use as a barrier material for food packaging, supply chains will be under greater demand.
The US-based Association of Plastic Recycling deems packaging comprising an EVOH layer (up to 5% by weight) and at least 32 mol% ethylene to be compatible with HDPE recycling systems. If EVOH use increases, VAM volatility is more likely.
EVA is also a key material for solar panel production – as explored in our blog post Solar energy boom sparks EVA capacity expansions. Off the back of the energy crisis, a surge in solar power installations globally might squeeze supply chains. Any tightening in the ethylene market will likely result in higher EVA production costs.
Polyurethane Foam Midsoles
The intermediate propylene oxide (PO) is used to produce polyether polyols for the polyurethane foam used in many midsole solutions. Our free-to-download eBook shows the price swings of China's PO import price from January 2018 and the predicted price point to January 2025.
As the graph in the eBook shows, PO has been an intensely volatile platform chemical – becoming especially expensive during the Covid years. The chemical dropped to its lowest point since 2018 at the end of 2022. The eBook graph shows where Tecnon OrbiChem predicts its price will land at the start of 2025.
---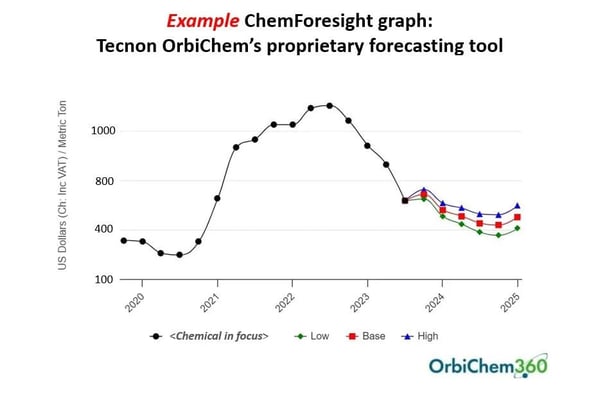 Source: Tecnon OrbiChem
The predictions in the graphs in the eBook (and the example graph above) reflect three crude oil price scenarios. The base case reflects Tecnon OrbiChem's median prognosis (shown in red). That base case is accompanied by scenarios of higher (blue) and lower (green) price trends.
---
Isocyanate Trade Dynamics: Footwear Focus
In the footwear sector, polyols are reacted with the isocyanate MDI to make the semi-rigid foam that provides the midsole support. Isocyanate prices tend to be driven by supply and demand dynamics, and/or seasonality. When COVID lockdowns forced consumers to stay at home, demand for TDI – the isocyanate used to make flexible foam – surged as soft furnishing markets flourished. By comparison, while MDI's price trajectory rose for the majority of the pandemic globally, the increase was significantly slower.
That said, the price for China crude MDI imports reached record highs during 2020 – as the eBook graph shows. The eBook graphs also demonstrate how the collapse and price slump of the MDI market, as soon as the pandemic began, was exceptionally short-lived in China.
PU resin is another key footwear component for manufacturing shoe outsoles, as well as midsoles and insoles. As shown in the eBook graph charting PU resin prices from 2013 to 2023, the product can be very volatile.
Sustainability in Footwear
Ethylene production is considered unsustainable. The process of breaking down, and refining, petroleum or natural gas hydrocarbons to produce ethylene emits up to double the weight of its output in CO2. More sustainable production options are possible – as explored in our blog post A methane route to ethylene.
In 2022, specialty chemicals company Evonik developed a process for making PEBA with a 50% scrap tire feedstock. The innovation reduces the carbon footprint by 42%, according to a company press release.
On the PU elastomers side, German specialty chemicals company Lanxess markets an MDI polyether prepolymer containing renewable, biobased raw materials.
PU Power: Fuelling Footwear Markets & Improving Lives?
PU's suitability to evolve the one-shot Wellington Boot concept was explored by materials company Covestro and shoe machinery maker Desma in 2014. With up to three pairs of shoes produced per capita currently, less wasteful – not to mention less labor-intensive – production processes hold great potential.
At around the time European engineers devised the Quadwrap PU shoe machine, humanitarian organizations estimated that some 300 million children globally go barefoot, unable to afford shoes.
By Desma's calculations, its 36-station machine is capable of injection molding over 1100 shoes during a single eight-hour shift. Imagine how quickly its magic shoe-making machine could help 20 million sub–Saharan African children...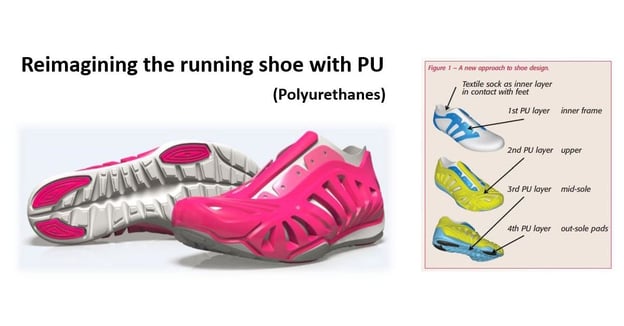 Source: Desma/Covestro
Well... By running 50 Desma machines for two eight-hour shifts daily, that particular challenge could be achieved in less than a year.
Just how much PU polyols by weight - and how much that volume would cost - is a calculation we can make using datasets contained in our chemicals data intelligence platform OrbiChem360.
That accuracy of price point is something we are able to achieve for the dozens of petrochemicals and biobased materials we monitor globally.
Download our eBook Footwear Feedstocks Price Forecast: A Chemicals Cost Comparison by filling in the form below.