4 min read
Chlor-alkali: What's driving Chinese markets? (Clone)
Carol Li and Lulu Zhao : May 10, 2023 3:12:17 PM
Domestic caustic soda supply was sufficient for the Chinese market in H1 2021 thanks to the country's chlor-alkali producers' stable operating rates. Average operating rates were 79.4% during the first half of the year – roughly 3% above the same period last year. In addition, new capacity came onstream, which increased the total output of caustic soda in China.
In terms of end-use markets, alumina, chemical fibre and other major downstream markets did not show particularly strong demand. There was, however, a positive trend in caustic soda demand overall. China's domestic caustic soda market in H1 2021 was relatively weak but the export market was relatively active due to the good supply.
Good downstream markets and low chlor-alkali operating rates triggered a domestic price rise at the start of H2 2021. By mid-September, the overall operating rate dropped to around 66%.
Lithium battery market boost to demand
On the other hand, downstream demand from alumina and newly developed industries such as the lithium battery market was strong. The export market was solid in Q3 2021, but export activity slowed in October due to higher domestic prices and tight supply. However, operating rates of Chinese chlor-alkali producers started to increase upon dual control policy easing in October. The overall operating rate has increased and has remained steady at 79.8% since the second half of November.
But as downstream demand from the alumina industry started to show weakness with winter's advance, the export price fell. That has been reflected in the rapid drop seen in late November following the peak in late September.
The total output of caustic soda for the first ten months in China was 31,576kt according to the National Bureau of Statistics, which was similar to the previous year.
Olympics drives demand down but outlook optimistic
With the coming of the Beijing Winter Olympic 2022, the operating rate of Chinese alumina producers may remain relatively low in the next two months. Most market participants expressed the view that the caustic soda market in China will remain poor in the first quarter of 2022. However, new capacity in China is planned and major chlor-alkali producers are reportedly optimistic about the peak season of caustic soda demand in 2022. In addition, robust downstream demand from Southeast Asia will support the domestic caustic soda market to some extent.
In China, chlorine demand increased in 2021 compared to 2020. State controls aimed at stopping the spread of Covid-19 helped drive that trend. On the other hand, chlorine supply rose alongside the higher operating rates of Chinese chlor-alkali producers, and chlorine capacity expansions. China's chlorine capacity kept rising in 2021 owing to good production profits and expansion plans.
China's EDC import volume dropped substantially in 2021 due to tight availability and surged EDC prices this year. Some Chinese vinyl producers preferred to buy ethylene and produce EDC themselves.
Demand for PVC increased in 2021, supporting chlorine demand and resulting in increased PVC production in China. Chinese PVC export volumes rose substantially in 2021 owing to good export profits caused by surges in PVC prices and tight supply outside China. China's PVC import volume decreased in 2021.
As previously reported by Tecnon OrbiChem, China restricted electricity supply and raised the utility's costs for high energy-consuming industries. The move is designed to achieve a carbon peak and carbon neutrality targets and environment-friendly development targets.
Operating rates revised down
Chinese chlor-alkali producers revised down operating rates significantly in September, which tightened supply substantially. 'Dual control' policies for energy consumption eased from October, and Chinese producers raised operating rates. Chinese chlorine producers raised offers based on substantially tightened supply in September, then cut prices down from October.
Looking forward, China's chlorine capacity is expected to continue to rise in 2022. The expansion speed, however, may slow due to the reintroduction of energy consumption and intensity controls by the Chinese government. There are some new capacities planned for 2022, but some projects may be delayed or even cancelled.
As for the other Asian countries outside China, EDC import volume has gone down in 2021. This is owing to overall very tight supply, including that for the major import country India. India, the major import country in Asia, imported 332kt of EDC in the first eight months of 2021, 32% lower than the same period of last year. EDC producers preferred to consume EDC domestically than exporting, amid good profits gained from producing VCM and PVC.
PVC demand and production of the Asian countries outside China was higher in 2021 than in 2020. India imported 1,158kt of PVC in the first eight months of 2021, 14.8% higher than during the same period in 2020.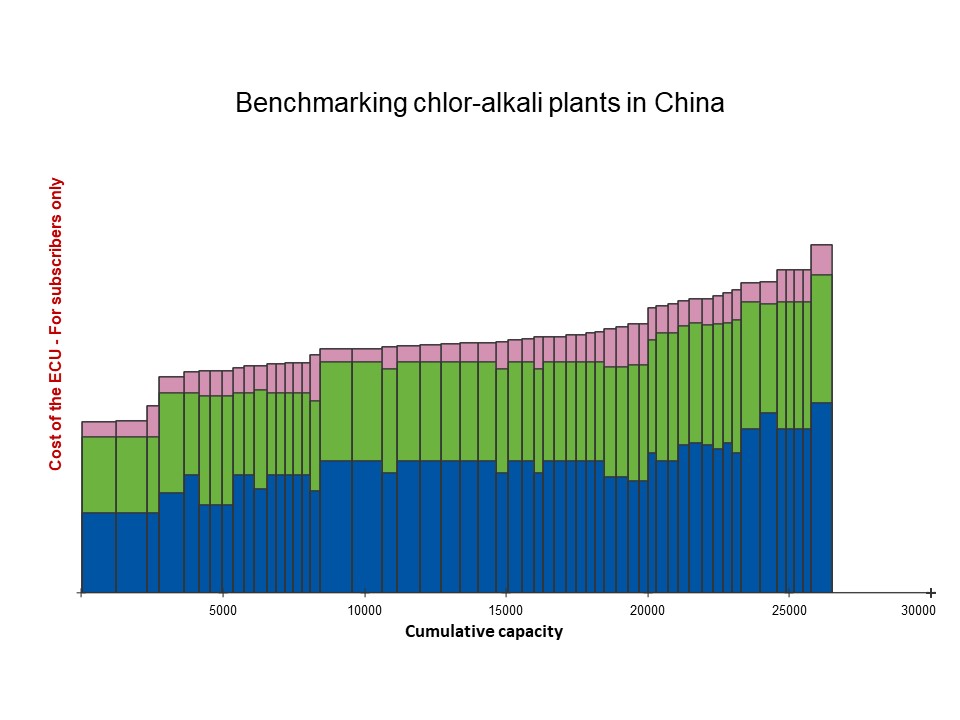 Source: Tecnon OrbiChem
The infographic above shows the cost breakdown for the electrochemical unit (ECU) used in chlor-alkali plants. Y axis data will be available to subscribers first. Tecnon OrbiChem leveraged proprietary data and insight from its OrbiChem360 platform to produce the report in collaboration with the Hong Kong-based Lantau Group, which specialises in analysis of Asia's electricity market. It outlines the factors shaping caustic soda and chlorine production cost structures in China. The report focuses on the sector's 55 largest enterprises, from Xinjiang province in the west to Shanghai in the east.
Fill in the form at the end of the article and tick the box beside chlorine; chlor-alkalis and/or caustic soda to receive a link to a video providing further details of the study in your inbox as soon as it is released.
Read Tecnon OrbiChem's full Europe and North America-foucsed chlor-alkali blog post 2021 review and outlook for 2022.
---
Petrochemicals markets: The bigger picture
"For all the petrochemicals, the market in the US has been the most volatile. This is extremely unusual. The Big Freeze earlier in 2021 knocked out production along the Gulf Coast then Hurricane Ida led to plant stoppages. Meanwhile, the US's Gulf coast companies endured internal logistics issues including truck driver shortages and railroad delivery disruptions due to extreme weather conditions there.
"Europe was unusually volatile as well. Germany's flooding in July caused disruptions. The Autumn saw water levels in the Rhine drop so significantly that barges transporting cargoes along them could only be half loaded. Asia by comparison, which is usually the centre of volatility, was much more stable. Because China emerged from Covid-19 earlier, there were 12 months of very good business there.

"Any big change is destabilising. Even change for the better causes worries."
Charles Fryer, Senior Advisor, Tecnon OrbiChem
"The second half of this year has seen that progress steadily declining – a normal situation once inventory levels get back to normal. Buyers are being more cautious. Coming out of a recession, there's a boost as companies restore inventory levels that were run down in the recession. There was an inflation effect as China restored its inventory levels but the economy is slowing, and growth is slowing too.
"Growth in China is currently less than 5% per year, which is low for the country. There is some kind of pessimism that will probably be increased by the fall in the price of crude oil. Crude oil energy will be cheaper but industry likes stable markets because then they know where they are going.
"A 10% drop in the price of oil will see buyers asking themselves 'what's going on here?'. They think their customers might start cutting back and that there is no point in them stocking up if their customers stop buying. Any big change is destabilising. Even change for the better causes worries."
Watch Charles Fryer's video presentation Business cycles in the chlor-alkali industry.