4 min read
Biobased monopropylene glycol: The bumpy road to a decarbonised world (Clone)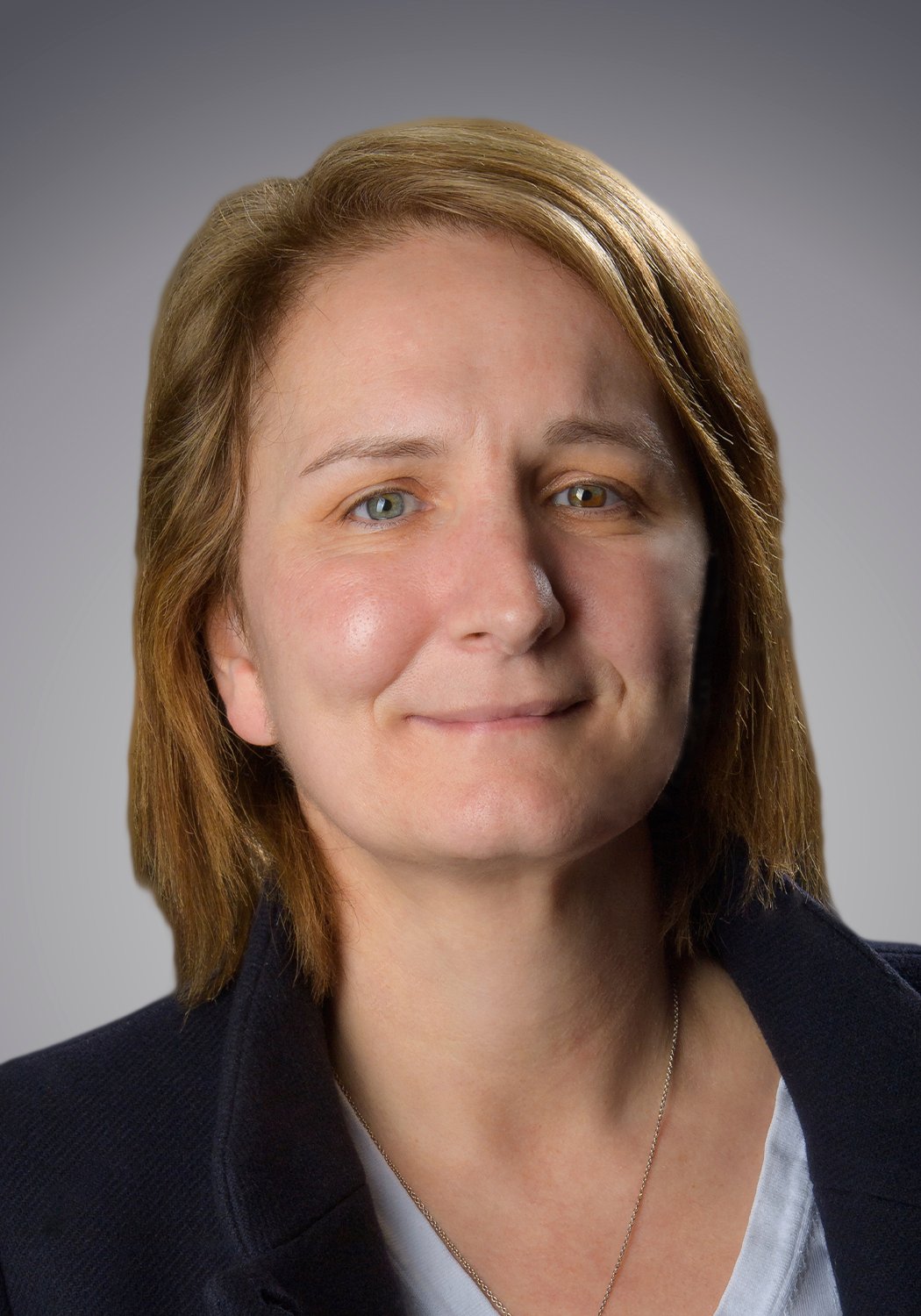 Jane Denny : May 9, 2023 2:41:29 PM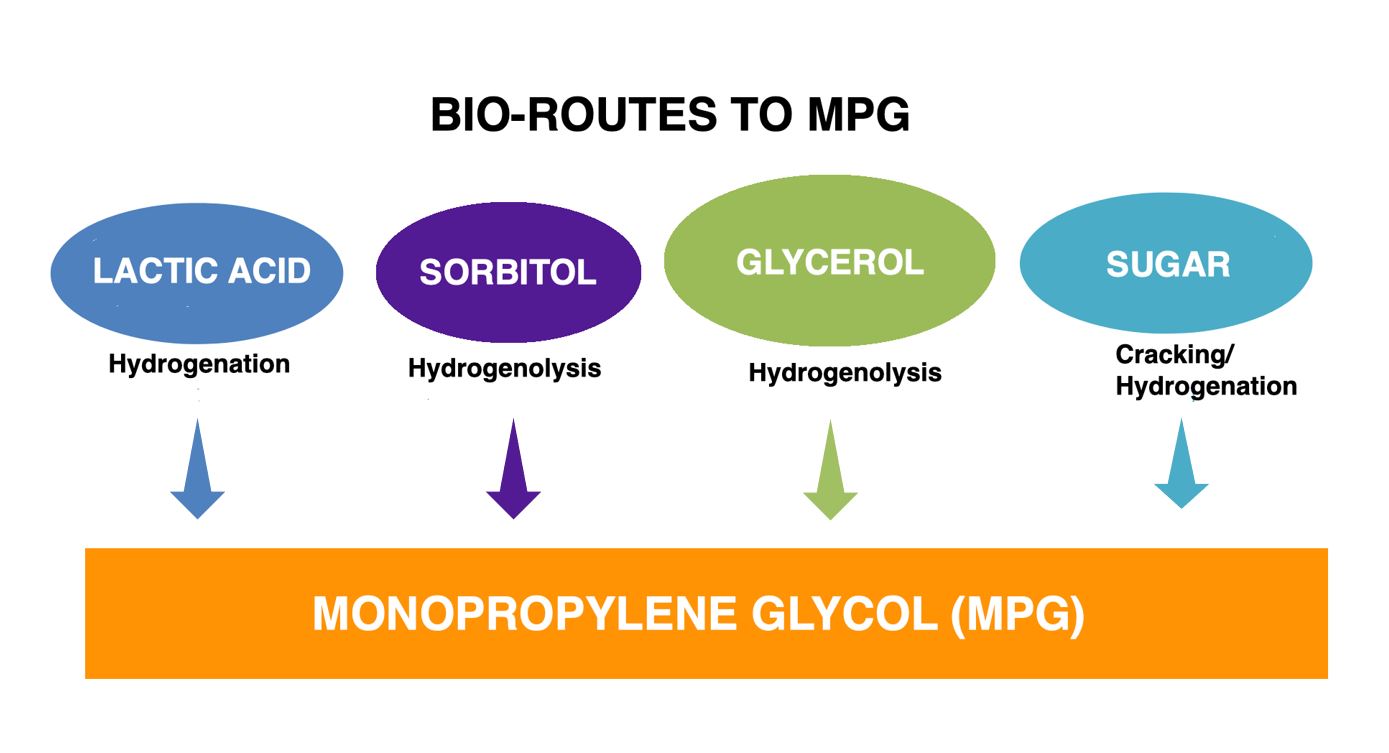 Monopropylene glycol (MPG) – often called simply propylene glycol – is essential to a wide range of products across a variety of industries and consumer products. That includes food and beverages, plastics, liquid detergents, paint, antifreeze as well as pharma and cosmetics. The largest use of MPG is as a monomer in unsaturated polyester resins (UPR).
It is also a biodegradable ingredient that is approved by the US Food & Drug Administration for food use. In the US, the Food and Drug Administration allow alcoholic beverages to contain up to 5% propylene glycol (or MPG). But in Europe there is much tighter restriction on its use within foodstuffs, including drinks.
Global MPG production is estimated to consume over two billion pounds of petroleum annually, according to the US Environmental Protection Agency (EPA). Until around a decade ago, MPG came almost entirely from petroleum resources – which much of it remains today.
It was back in the mid 2000s that Pacific Northwest National Laboratory (PNNL) scientists discovered how to produce MPG from renewable sources. The team there had been exploring the use of glycerine (also known as glycerol) and sorbitol as renewable sources for MPG. Sorbitol is produced from corn starch-based glucose or corn steep liquor and is found naturally in berries and other fruits. It is considered one of the top 12 high value-added building block intermediate chemicals that can be produced from renewable biomass, according to a US Department of Energy report.
Using a metal catalyst with a soluble base co-catalyst, the team converted plant-based, seed-oil-derived glycerine and plant sugar alcohols into MPG. By 2010, the biobased MPG process had been commercialised by Archer Daniels Midland – heralding a new era for the chemical intermediates value chain.
The EPA says lifecycle analysis show up to 61% of the greenhouse gas produced by the traditional propylene oxide route to MPG were eliminated in the PNNL/ADM renewable process.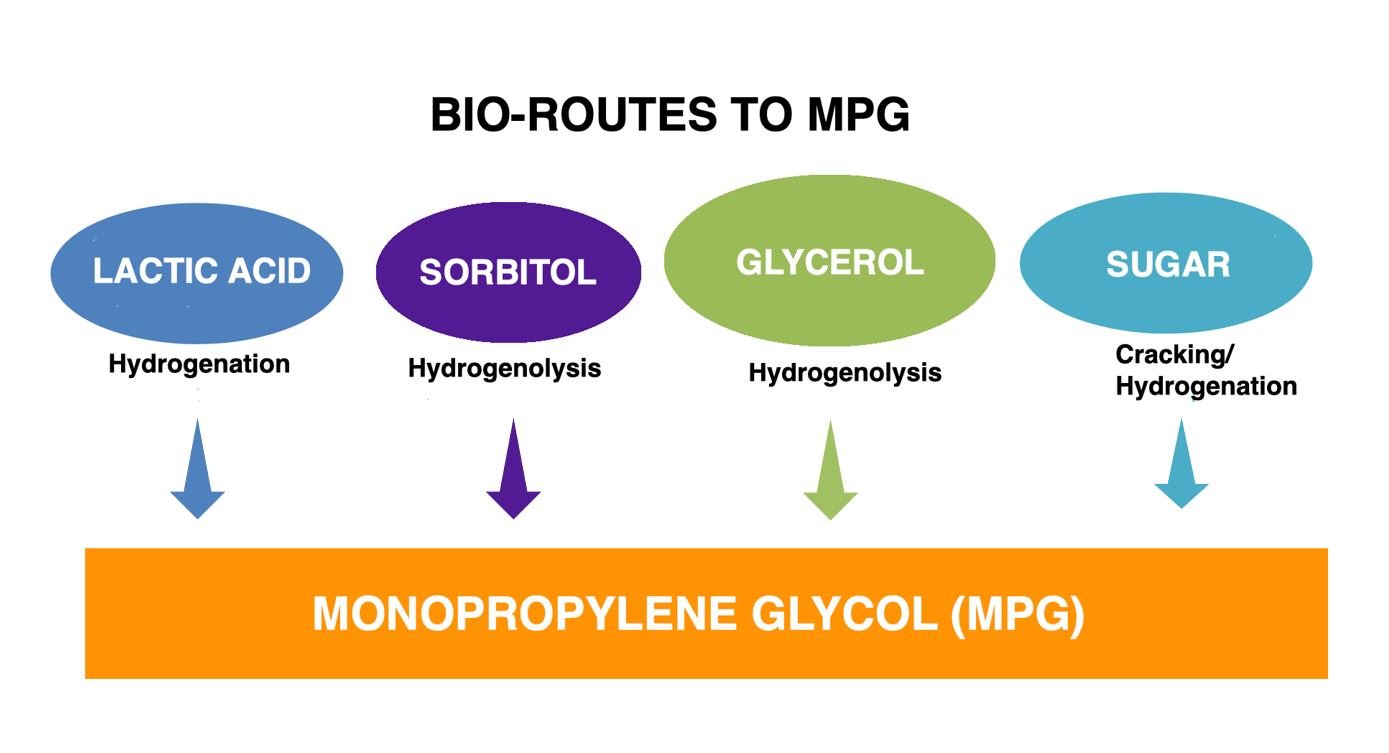 Source: Tecnon OrbiChem
Renewables potential
With demand for MPG growing worldwide and the need to replace fossil-fuel derived feedstocks with renewable alternatives ever-more pressing, startups and established brands are keen to explore biobased MPG.
Ayas Renewables is a US-based company that was founded in 2015. An SME, the firm had originally planned to break ground on its first plant this year. Located on a site 'near the US Gulf Coast port' – according to the company's website – the plan is to use surplus glycerine from biodiesel production.
The company converts the glycerine to 99.9% pure biorenewable MPG, and claims its product's molecules are the same as their petroleum-based mainstream product. As of 2019, the company said it was able to offer it at the same price as the product made from fossil-based sources. However, glycerine prices were much lower in 2019.
Glycerine is a by-product of oil seed processing and produced whenever a fat is split; for example, soap manufacturing or in biodiesel production via transesterification. Biobased MPG is currently commercially produced from refined glycerine or sorbitol although the conversion of glycerine is by far the most used route to produce biobased MPG.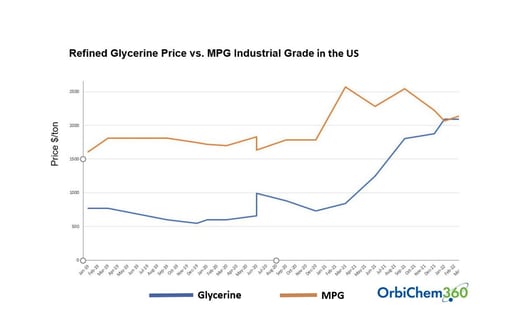 As the graph (left - open in new window) shows, glycerine prices have been sharply on the rise since early 2021. Glycerine is a by-product of the manufacture of biodiesel via transesterification – though biodiesel has seen a fall in demand recently. With less biodiesel being produced via transesterification, there is a reduction in the output of the glycerine – hence a rise in its price as its markets tighten.
As of 2019, Ayas's intention was to source over 200 million lbs/year (90+ ktpa) of crude glycerine to produce MPG – although it was also planned to use sorbitol as a feedstock for its biobased MPG. Ayas also mooted plans for producing other glycerine-based chemical intermediates.
Having secured over $25 million in state incentives to develop and deliver its vision, Ayas was bullish with its plans for future growth potential. It says it has already been in discussions for additional plants in Latin America and has explored partnerships for Southeast Asia-based plants.
---
'Bio-MPG remains an ideal potential downstream outlet for biodiesel-derived glycerine'
Doris de Guzman, senior consultant
Biomaterials & Intermediates
---
Downstream potential
Tecnon OrbiChem's senior consultant for the biomaterials sector Doris de Guzman said: 'Despite price premiums for bio-MPG, it remains an ideal potential downstream outlet for biodiesel-derived glycerine as the conventional MPG route is complicated and expensive.
'However, there is also growing concerns for crude glycerine supply as methyl ester-based biodiesel production, which co-produces glycerine (10%) via transesterification, is being displaced by diesel produced from hydrogenated vegetable oil.
'This renewable diesel process does not produce crude glycerine co-product. The growing large-scale investment in hydrogenated vegetable oil diesel capacity will likely tighten glycerine markets in the biodiesel sector,' de Guzman added.
In addition to that, we are yet to see the extent of impact to the glycerine-based bio-MPG plans from recent price rises for glycerine since, whereas glycerine feedstock for biobased MPG may well have been economically viable in 2019, that may not continue to be the case in 2022.
Companies such as UPM, Braskem and Avantium have also developed their own processes for catalytic cracking of C5 and C6 sugars and converting these sugars to monoethylene glycol (MEG) and MPG.
In Europe, Orlen opened a green propylene oxide plant near Kraków in Poland in November 2021. The company's biopropylene glycol comes from the catalytic reaction of distilled glycerine 99.7% with hydrogen. The glycerine is obtained from sustainable biodiesel production, where vegetable oils are used in the transesterification process.
Alternative processes
In March 2022, Braskem and Japan's Sojitz announced plans for a joint venture producing biobased ethylene glycol and propylene glycol. The plant will crack monosaccharides into glycolaldehyde before conversion to glycols using the Mosaik technology Braskem and the engineering firm Haldor Topsoe devised over five years. Braskem and Sojitz are planning three industrial units, the first by 2025.
The Iowa Corn Promotion Board developed a patented continuous process technology that can produce MPG or mixtures of MEG/MPG from corn sugar using a retro-aldol catalyst and hydrogenation catalyst.
Bringing circularity and sustainability to key sectors
A number of industries would benefit from the development of the biobased MPG industry. The UPRs that go into paints, coatings, pipes, and tanks can improve their environmental footprint with a biobased MPG feedstock. Similarly, polyurethanes benefit from the reduction in carbon emissions of a drop-in biobased option. It can also be used in the adhesives that hold boxes and packaging together.
Tecnon OrbiChem regularly explores the commercialisation and development of sustainable chemicals and feedstocks in its Bio-Materials Chemical Profile publication. It is available to subscribers of the chemical data intelligence platform OrbiChem360.