5 min read
Sustainability boost from promising profit: Concept to reality bio-PET

Javier Rivera : May 18, 2022 4:49:27 AM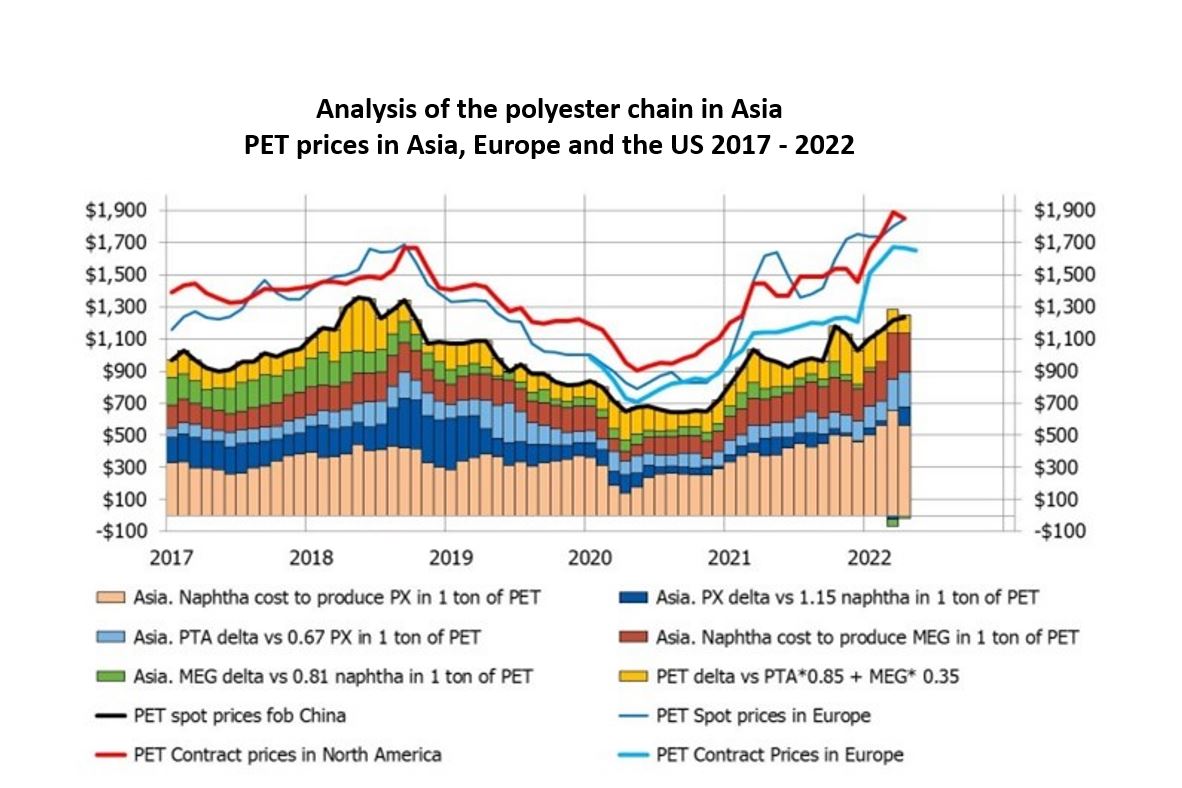 The largest PET producers reported extraordinary results in 2021 and Q1 2022. Along with improved profitability, all the companies provide extended description, achievements and goals in terms of Environmental, Social & Governance (ESG) standards.
In the short term, profitability for products in the chain – with the exception of monoethylene glycol (MEG) – is expected to continue.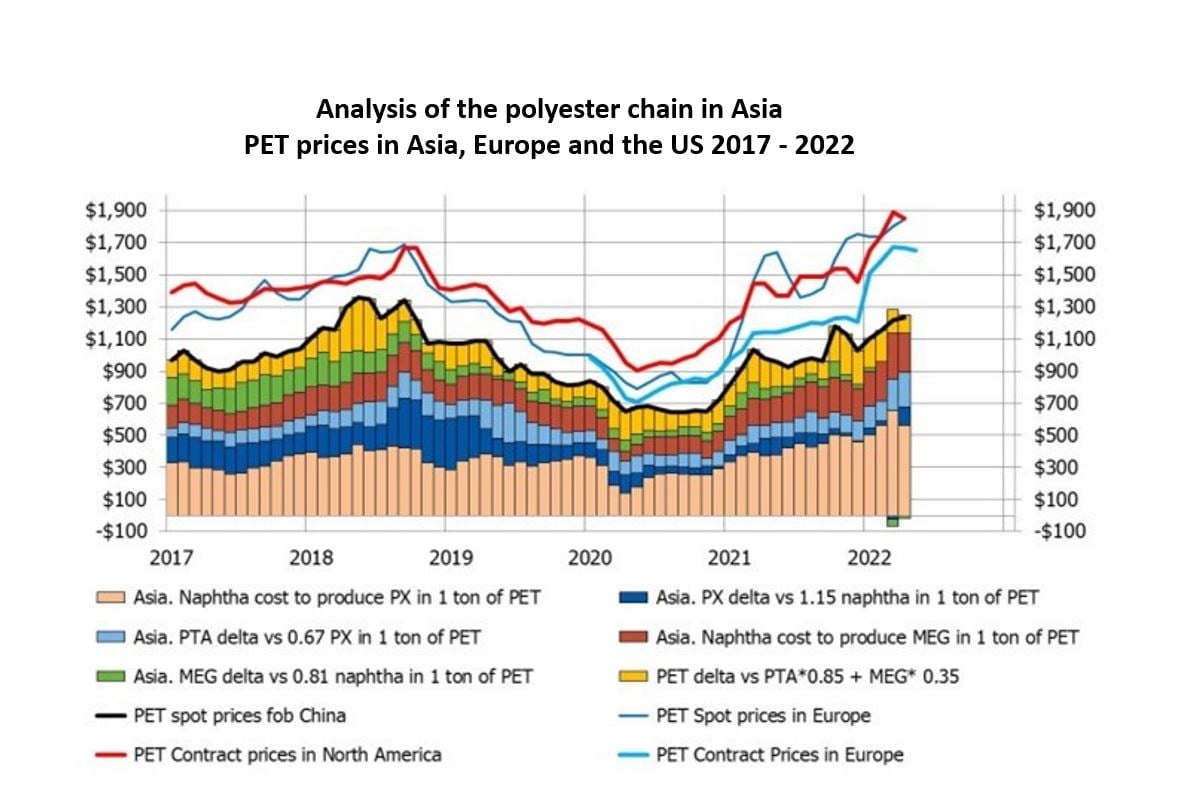 Source: Tecnon OrbiChem
The graph above (click here to open in a new window) shows polyester feedstock prices in Asia and PET prices globally. The dark blue and red lines reflect the lower end of PET contract prices based on feedstocks in Europe and the US respectively. PET spot prices fob China – indicated by the black line in the infographic – are still slightly above $1200/ton in May, with quotes from other countries in Asia slightly higher. High cost of freight, although slightly decreasing to some destinations, still results in high import parity for PET, purified terephthalic acid (PTA) and purified isophthalic acid (PIA) in Europe and the US.
---
'Competitiveness arises from a significant reduction in GHG emissions compared to fossil-derived

paraxylene in PET manufacture'

David Sudolsky, Anellotech president and CEO
---
PET premium
Additional premiums for regional product will remain during Q2 and Q3 2022 in the northern hemisphere, amid increasing logistic constraints (space availability, internal logistics, port congestion) in Asia.
MEG remains the product with negative or poor profitability depending on the feedstock used in each region. Huge global overcapacity and declining polyester demand in China due to rising Omicron infections resulted in drops of $150/ton in cfr values in Asia in the last two months, the result of which can be also observed in the graph above. Naphtha-based producers have been hit particularly hard, with rationalisation in Asia and Europe expected to continue through the second half of 2022.
Logistics chaos, reliable production and the need to ensure enough feedstocks to operate remains the main concern for products in the polyester chain in Europe and the US.
The long-term perspectives of polyester producers (specially integrated) have been significantly enhanced by 2021 performance and 2022 expectations.
Annual repots and other documents communicated by producers show their goals to provide highly-value innovative products and improved efficiency with a more sustainable approach.
Ambitious targets in terms of circularity, lower carbon emissions and eco-efficiency, together with other ESG goals have become a priority for companies in the chain to better serve downstream industries and fulfil consumer´s goals.
From concept to reality
Carbios is set to build its first-of-a-kind manufacturing plant for fully bio-recycled PET in partnership with Thailand-headquartered Indorama Ventures. The plan for the reference plant is to be operational in 2025. Having successfully started-up its demonstration plant in Clermont-Ferrand, France, Carbios is now moving a step closer to industrialisation and commercialisation by partnering with Indorama Ventures.
The goal is to build and operate the world's first industrial-scale enzymatic PET bio-recycling plant, with a processing capacity of C.50,000 tons of post-consumer PET waste per year. Earmarked for location in France too, the plant would recycle equivalent to 2 billion PET bottles or 2.5 billion PET trays annually.
Bio
PET packaged pop
The Coca-Cola Company and Japanese packaged goods producer Suntory each unveil first beverage bottle prototypes made from 100% biobased PET, ready for commercial scale-up. The fully recyclable prototype plant-based bottle is estimated to significantly lower carbon emissions compared to existing petroleum derived virgin bottle.
In official communication, a Suntory executive emphasised that the PTA feedstock comes from non-food biomass, so it avoids competition with the food chain. The product's MEG component is also derived from non-food grade feedstock. It is the result of over ten years of development work by US-based Anellotech and its partners.
Anellotech president and CEO David Sudolsky said 'The competitive advantage of Anellotech's Bio-TCat generated paraxylene is its process efficiency.' It uses a single-step thermal catalytic process by going directly from biomass to aromatics (benzene, toluene and xylene), he said.
Further competitiveness arises from 'the opportunity it creates for a significant reduction in GHG emissions compared to its identical fossil-derived paraxylene in the manufacture of PET, especially as it generates required process energy from the biomass feedstock itself.'
Bio-paraxylene
The Coca-Cola Company's new prototype plant-based bottle is made from plant-based paraxylene (bioPX) - using a new process by US-based renewables manufacturer Virent – which has been converted to plant-based terephthalic acid (bioPTA). The bioPX for this bottle was produced using sugar from corn, though the process lends itself to flexibility in feedstock.
In October 2021, The Coca-Cola Company; Jilin, China-based Changchun Meihe Science & Technology and UPM announced the first planned commercialisation of technologies to efficiently convert second-generation biomass to plant-based MEG (bioMEG). The next-generation technology is said to be more efficient than existing technologies and based on feedstock that cannot be used as a source of food: hardwood taken from sawmill side-streams and forest thinning operations as part of sustainable forest management.
Co-owned and co-developed by The Coca-Cola Company and Changchun Meihe, and now being scaled to commercial quantities by the Finnish forest-based bioeconomy leader UPM, the technology to produce bioMEG takes a sugar source and removes the step of creating ethanol as part of the conversion process to produce plant-based MEG.
This means the process is simpler than incumbent processes and provides flexibility in feedstock choice. The companies announced that UPM will offer commercial quantities of these breakthrough biochemicals to anyone in the industry, including direct competitors to The Coca-Cola Company. UPM's biorefinery is planning to ramp up production in 2023 with a capacity of 220ktpa.
Nature-based
Biobased materials development company Origin Materials, Danone, Nestlé Waters and PepsiCo make up the research consortium NaturALL Bottle Alliance, which has been developing packaging solutions using sustainable and renewable resources since 2017. Using biomass feedstocks so as not to divert resources or land from food production for human or animal consumption, production with a reduced carbon footprint is the alliance's mission.
Based on proprietary technology, Origin's number 1 unit expects to finalise mechanical completion by the end of 2022 and produce CMF (5-Chloromethylfurfural) and HTC (Hydrothermal Carbon) – structured compounds that have been converted from organic compounds. The site will deliver these and other intermediates in volumes that allow customers to qualify products and applications other than PET, says the company. It expects to leverage an already-existing industrial base of monomer, polymer, additive, and packaging/extrusion technology to supply various markets, including bottles, packaging and textiles.
In February 2022, announced the location of its Origin 2 unit, which it expects – pending final approval – to convert an estimated 1 million dry metric tons of sustainable wood residues each year into carbon-negative materials used to make PET and HTC.
On the glycols sides, India Glycols claims to be the only manufacturer globally to produce bio-ethylene glycols using renewable feedstock such as molasses. The company adds that its bio-glycols are food grade and therefore suitable for bottles and polyester film for food and beverage packaging solutions.
Alternative alternatives...
US-based renewable chemicals and biofuels firm Gevo acquired the intellectual property of BP and DuPont joint venture Butamax Advanced Biofuels. That partnership developed a bio-isobutanol technology for converting sugars from various biomass feedstock including corn and sugarcane.
An alternative approach to more sustainable packaging production has been commercialised by Canadian biotech company Genecis. It processes food waste to make polyhydroxyalkanoate (PHAs) – biodegradable plastics we explored in our blog Plastic packaging that's sustainable and biodegrades earlier this month. Genecis says its PHBV plastics have equivalent properties to their oil-based counterparts. The material can be composted with one month of its end-of-life and degrades within one year in the ocean.
Biomass and wood feedstocks are increasingly expected to replace petro-based source materials in the coming years. The infographic below – from Indorama Ventures' Vision 2030 publication – shows how the ratio of fossil-based to biomass-sourced feedstocks used in its plastic products range could transform before the next decade.

Source: Indorama Ventures
There are growing pressures for brands to demonstrate strategy in line with circular economy aspiration. Consumer preference is shifting to sustainable, eco-friendly and climate stabilising business practice and products. Corporate commitment is most likely to increase as government mandates are refined, rolled out and stringently legislated.
Tecnon OrbiChem is now part of ResourceWise, which brings it together with its sister brands – Forest2Market, Fisher International and Wood Resources International – all of which serve natural resource industries. Together, they are uniquely-placed to help customers make informed decisions using high quality data on chemicals, pulp & paper and wood resources.
This blog is (in part) an update to the Tecnon OrbiChem white paper, PET (& raw materials) profitability in 2022: West welcomes sharp improvement published in February, 2022. The full paper (which can be accessed via this Tecnon OrbiChem blog post) includes a focus on Latin American PET markets, a deep dive into one Middle Eastern country's burgeoning capacity to meet polyester value chain demand, and more.